Alma del Cañon
[ ALL UNITS SOLD ]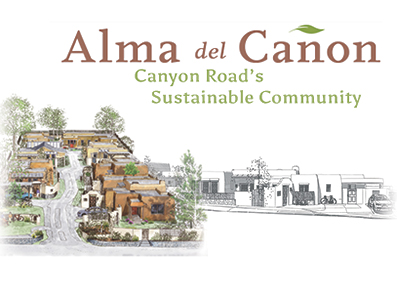 Canyon Road – the evocative address brings to mind art, pinon fires, a place that moves at pedestrian speed, a meandering camino that connects the Sangre de Cristos to downtown Santa Fe. If the plaza is the heart of Santa Fe, Canyon Rd represents its soul -connecting the people who live here with the watershed, wildlife and forests that support it.
Alma del Cañon, a Santa Fe community of seven homes on historic Canyon Road, reflects the integrity of this relationship between the environment and those who live within it. The plan allows for privacy within a cluster of energy responsible residences.
Each of the Alma del Cañon homes honors the human scale of Canyon Road and in keeping with the vernacular of Santa Fe, each is unique. Making discriminating use of the details that contribute to the architectural diversity evident in any walk along Canyon Road, a Northern New Mexico pitched roof neighbors a pueblo style with a shed roof portal within Alma del Cañon. All have private outdoor living spaces and all offer off street parking for residents and their guests. All have two bedrooms, two baths, Kiva fireplaces, stained concrete floors, diamond plaster throughout, and wood and stone countertops.
While preserving the character of the property's original structures has been a priority, adding all the amenities required for seamless, 21st century living has been central to the project's vision. Alma del Cañon epitomizes the new "historic meets modern" construct.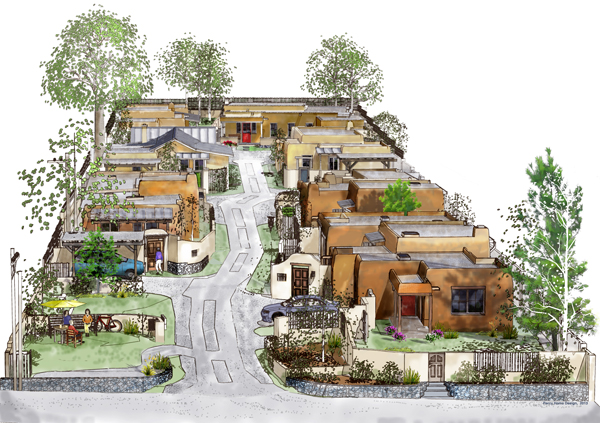 Unit A: This is the largest of the homes in the community with 1,914 sq ft. It also has the most outdoor living space with a large front yard. The direct Canyon Rd. entry and mature apricot tree make this the signpost of Alma del Cañon. We have taken two small contributing historic dwellings and connected them with a spacious, comfortable living room to create a two bedroom two bath home. The covered plaster ceilings and historic accents maintain the homes' past while the open layout and modern amenities make it the perfect place to embrace the future.
Unit B : This 1,755 sqft. contributing historic home has an added master suite with private courtyard lending to its vacation home appeal. A central kitchen and spacious open floor plan create a warm living environment.
Unit C : Two small historic dwellings have been connected to create a 1,652 sqft. home. Carport, media room and mature shade trees are additional assets of this pure adobe residence. A cellar door gives access to potential wine/root cellar- an original feature of this historic home.
Unit D : The fourth home in this compound begins the "new build" phase of Alma del Cañon. This 1,590 sq ft pitched roof Northern New Mexico style home has a carport and beautiful entryway courtyard which gives access to the home's common area. The back portal area is perfect for a gathering of friends.
Unit E : This 1,689 sq ft new adobe home boasts a spacious living space which opens to a private back courtyard with portal, making it an inviting space for entertaining or quiet comfortable living. A carport adds convenience while the Pueblo style architecture provides aesthetic appeal and traditional integrity.
Unit F : Our sixth home is a 1,618 sq ft home nestled in the southeast corner of the property. It shares the shade of the compound's prized, mature cottonwood tree and boasts ample terraced outdoor living space.
Unit G : This 1,827 sq ft. Territorial style home enjoys the privacy of the Southwest corner of the compound while maintaining an entryway view of Canyon Road.
View the Gallery